Green responsibility

We aim to take care both of our customers as well as the environment around us. That is why environmental protection is so important to us. Using paperless electronic invoices, for example, is just one of many examples of the small activities we can do together with our customers to help to save the environment.
Proof of our green policy is the POWERED BY GREEN quality certificate.
It is the best signal of a green philosophy and responsible behavior for your company's customers and business partners.
Using environmentally friendly and clean energy sources demonstrates your company's social responsibility and increases the value of your products and services.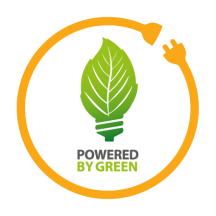 The POWERED BY GREEN certificate ensures that the energy supplied by Elektrum comes only from 100% renewable energy sources (mainly solar, wind, hydro and bioenergy) and is covered by official certificates of origin.
As a whole, up to 50% of the electricity produced by the Latvenergo Group comes from renewable sources, mainly from hydropower plants in Latvia. We are pleased to be one of the greenest electricity producers in Europe.